For more than forty years, John Sherwood worked as a feature writer for the Baltimore Sunpapers, the now-defunct Washington Star, the Miami Herald and the Journal Newspapers of Maryland and Virginia. Recently, he has been managing editor of Rags, The Magazine, an East Coast sailing magazine based in Annapolis.
In 1994, Sherwood wrote his first book, Maryland's Vanishing Lives, a compendium of the many crafts, occupations and skills which will soon disappear not only in Maryland but throughout the country. Illustrated with beautiful photographs by Edwin H. Remsberg, this collection is a testimonial to a disappearing world.
"
In 1997 I became a senior staff writer at Soundings, a national recreational boating magazine published out of Essex, Connecticut. I semi-retired in 2005 but continue to write a monthly, full-page personal column about sailing and my sailing experiences entitled "Bay Tripper." I have never missed a column in all those years. I sail and single-hand the Chesapeake Bay out of Annapolis, where I keep my classic fiberglass sailboat—a Sparkman & Stephens-designed Sailmaster 22 built in Holland in 1962. Named "Erewhon.
"
Maryland's Vanishing Lives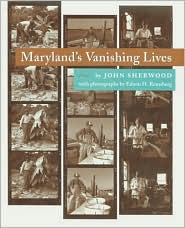 Photo: courtesy Marc Tyler
Attribution: noblemania.blogspot.com, John Hopkins University, Barnes & Noble